Click pictures for actual size and coloring





Tombstone of John Wilson
Born 1785
Died March 3, 1845
Moscow Cemetery, Muscatine Co., Iowa






Mary Wilson (wife of John)
Born Feb. 8, 1790
Died Oct. 31, 1867
Moscow Cemetery, Muscatine Co., Iowa












The Wilson Family Bible!











Below are pictures related to the children of John and Mary Wilson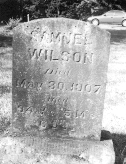 Samuel Wilson's Gravestone
Born December 23, 1812
In Connorsville, Fayette Co.,
Indiana. Came to Oregon in 1851.
Died May 30, 1907
Samuel served in the Indian Wars, 1855-1856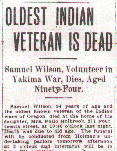 Click on the obituary for a full
copy of one of Samuel Wilson's
obituaries.










Click on this image for another
version from a different newspaper
of Samuel Wilson's obituary.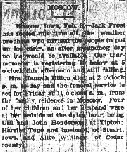 Click here for the full image of Hannah Wilson Henderson's obit from the Muscatine (Iowa) Journal Feb. 10, 1899.
Click on the obit for a full-size image.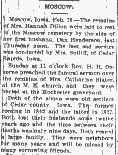 Click here to see another obituary column for Hannah (thanks Diane!). This one is from the Muscatine Journal Feb. 12, 1899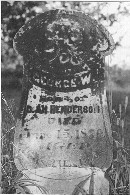 Click on the image for a photo of Daniel Henderson's tombstone from the Moscow Cemetery in Muscatine Co., Iowa (thanks Diane!)














« Go back to the Wilson Directory «

« Go back to the Main Wilson page «




Main

Cline

Wilson

Edaburn

Williams

Voshage

Robinson

Behrends

Bishop

Genealogical Links